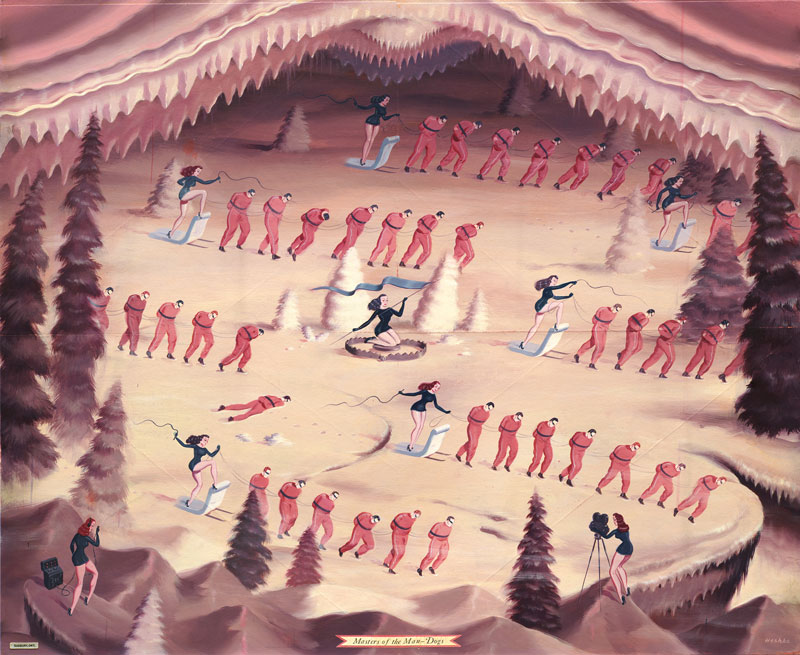 RYAN HESHKA è nato a Manitoba, in Canada nel 1970. Vive e lavora a Vancouver, Canada.
Ha conseguito una laurea in interior design e ha lavorato per molti anni in questo settore, oltre che nell'animazione, prima di fare dell'arte e dell'illustrazione la sua principale attività.
Le influenze dei suoi lavori si possono spiegare da un amore lungo una vita per i fumetti (tra i suoi artisti preferiti citiamo Jack Kirby, Bill Everett e Basil Wolverton), per giornali scandalistici (Frank R.Paul), per libri per bambini (Dr. Seuss), per film con mostri e B-movie (come i film di Ray Harryhausen, King Kong, Dracula etc), per le vecchie pubblicità e manifesti, tutte queste fonti hanno creato il suo stile artistico. Disegnando fin da piccolo, Heshka utilizzava modellini (piccole città costruite con cartoline) e filmini super 8 per creare un proprio mondo.
Heshka appare nei maggiori annuali di illustrazione, tra cui American Illustration, Society of Illustrators, Communication Arts, 3 x 3, e Applied Arts. Tra i suoi clienti ci sono Vanity Fair, Wall Street Journal, The New York Times, Playboy, Esquire, Forbes, Topps e Dreamworks SKG.
Ha esposto in gallerie nel Nord America ( tra cui Roq La Rue, Seattle, WA; Richard Heller, LA¸ Copro Nason, LA; Orbit Gallery, New Jersey; Rotofugi, Chicago) e in Europa (Feinkust Kruger, Germania; Antonio Colombo Arte Contemporanea, Italia), ed è stato pubblicato numerose volte in BLAB! e su alcuni libri dedicati al movimento della New Underground, tra cui THE UPSET.
Il suo secondo libro per bambini è uscito lo scorso inverno e il suo primo libro è stato edito dalla DreamWorks SKG.
Tra le sue mostre personali si ricordano: nel 2010 "Super Things", Roq La Rue Gallery; Seattle, Washington, nel 2011 "In the Trees: Twin Peaks 20th Anniversary show", Clifton's Brookdale, Los Angeles, CA "Instinction", Roq La Rue Gallery; Seattle, WA, nel 2012 "Ours", Antonio Colombo Arte Contemporanea; Milan, Italia e "Disasterama", Roq La Rue Gallery; Seattle, WA. Nel 2013 "Teenage Machine Age", Antonio Colombo Arte Contemporanea; Milan, Italy, nel 2015 Romance of Canada. a cura di Ivan Quaroni. Antonio Colombo Arte Contemporanea, Milan, Italy, nel 2016 "DON"T WAKE DADDY XI" opens Saturday December 3rd at the Feinkunst Kruger Gallery (Hamburg, Germany) group show.
Nel 2017 è stato pubblicato da Cernunnos il catalogo FATALES,pubblicazione monografica dell'artista.