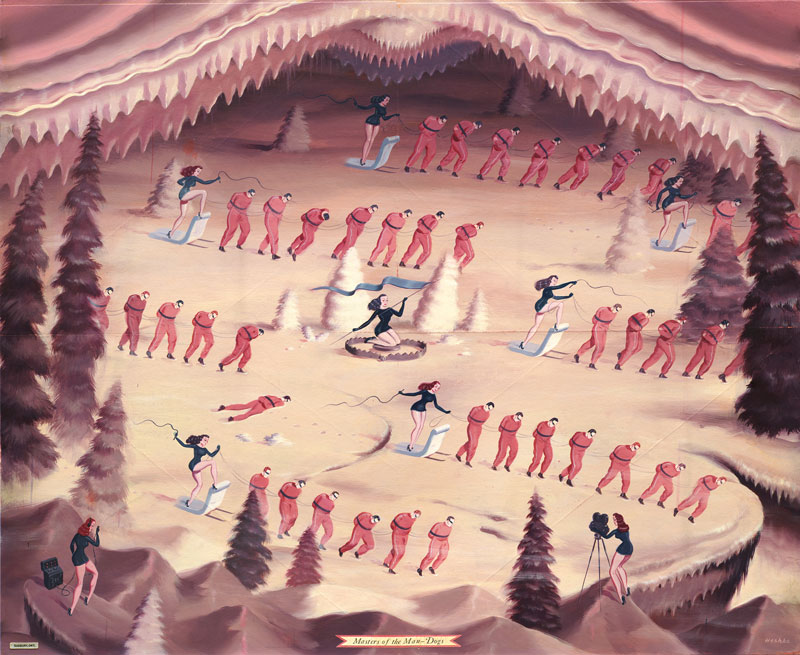 RYAN HESHKA was born in Manitoba, Canada in 1970. He lives and works in Vancouver, Canada. He has a degree in Interior Design and worked in that sector for many years, also doing animations, until shifting into art and illustration as his main activity.
The influences on his work include a lifelong love of comics (favorite artists like Jack Kirby, Bill Everett and Basil Wolverton), pulp magazines (Frank R. Paul), children's books (Dr. Seuss), monster movies and B movies (like the films of Ray Harryhausen, King Kong, Dracula, etc), old advertisements and posters. All these sources are combined in his artistic style. Interested in drawing ever since childhood, Heshka utilized small models (little cities made with postcards) and Super 8 film to create his own world.
Heshka's work is featured in the leading illustration annuals, including American Illustration, Society of Illustrators, Communication Arts, 3 x 3, and Applied Arts. His clients include Vanity Fair, Wall Street Journal, New York Times, Playboy, Esquire, Forbes, Topps and Dreamworks SKG.
He has shown in galleries in North America (including Roq La Rue, Seattle, WA; Richard Heller, LA; Copro Nason, LA; Orbit Gallery, New Jersey; Rotofugi, Chicago) and Europe (Feinkust Kruger, Germany; Antonio Colombo Arte Contemporanea, Italy), and his work has been published many times in BLAB!, and in books on the New Underground movement, including The Upset.
His second children's book was released in the winter; his first was published by DreamWorks SKG.
We remember some important solo and group exhibitions: in 2010 "Super Things", Roq La Rue Gallery; Seattle, Washington, in 2011 "In the Trees: Twin Peaks 20th Anniversary show", Clifton's Brookdale, Los Angeles, CA "Instinction", Roq La Rue Gallery; Seattle, WA, in 2012 "Ours", Antonio Colombo Arte Contemporanea; Milan, Italia and "Disasterama", Roq La Rue Gallery; Seattle, WA. In 2013 "Teenage Machine Age", Antonio Colombo Arte Contemporanea; Milan, Italy, in 2015 Romance of Canada. a cura di Ivan Quaroni. Antonio Colombo Arte Contemporanea, Milan, Italy, in 2016 "DON"T WAKE DADDY XI" opens Saturday December 3rd at the Feinkunst Kruger Gallery (Hamburg, Germany) group show.
In 2017 the catalogue FATALES has been published by Cernunnos: it is a comprehensive monograph of the artist works.