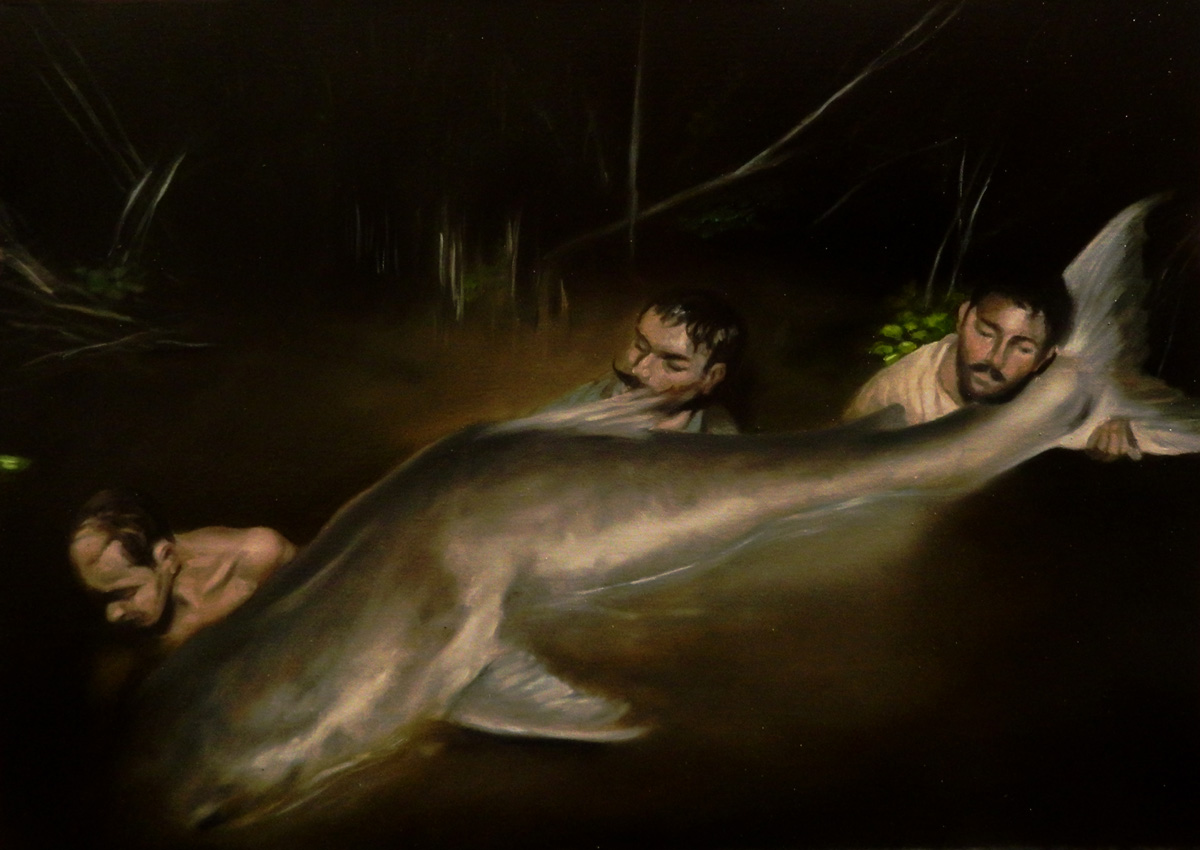 GIULIANO SALE
Giuliano Sale was born in Cagliari in 1977. He lives and works in Milano.
Solo Show
2015
Artissima 2015 Galleria Mother's Tankstation (Dublin). Torino.
2013
happiness is a warm gun. Antonio Colombo artecontemporanea, Milano. I.Quaroni.
2011
Biedernaier, L'umanita' al crepuscolo, Antonio Colombo artecontemporanea.Milano. I.Quaroni
2010
L'Oblio, Antonio Colombo artecontemporanea, Milano. M.C.Valacchi.
2007
Lullaby, Galleria Capsula, Roma. E.Olmetto.
2006
Embryo-Onis, Galleria Studio 20, Cagliari.R.Vanali.
2005
Spinky & Co, galleria My Mask, Cagliari.
Group Exhibitions
2015
La Famosa invasione degli artisti a Milano. Galleria Antonio Colombo. Milano. I.Quaroni e L.Beatrice.
2013
The Dark knight/Piancoteca Carlo Contini /Oristano.I.S.Fenu.
2012
Something else / galleria Antonio Colombo/Milano.R.Fantoni.
L'isola dei morti /Exma /Cagliari.R.Vanali.
Il giorno del Giudizio /Exma/Cagliari.R.Vanali.
Biennale Italia/Cina / Villa Reale Monza.I.Quaroni, S.Orlandi.
Italian Newbrow.Cattive Compagnie /Fortino/ Forte dei Marmi.I.Quaroni.
The shape of painting to come /galleria Lem/ SassariI.Quaroni.
2011
C.A.P.A. Misteri / Residenza casa Arcangelo, Benevento / I. Quaroni
Italian Newbrow, Como Pinacoteca Civica Palazzo Volpi. I.Quaroni.
54 Biennale di Venezia, Padiglione Sardegna. V.Sgarbi.
2010
XIV Biennale dell'arte sacra, Le Beatitudini. Museo Stauros d'arte sacra.San Gabriele (Teramo). L.Beatrice.
The Berlin Wall part 2,The Promenade Gallery, Vlore(albania).
Forward Rewind, Antonio Colombo Artecontemporanea, Milano. R.Fantoni.
Italian New Brow B-Side, Galleria Area B, Milano. I.Quaroni.
2009
Neovittoriani,Rivaartecontemporanea,Lecce.I.Quaroni.
Biennale giovani Monza 2009, Serrone della Villa Reale. (Monza).
Italian newbrow, Prague Biennale 4. Praga (Rep.Ceca)I.Quaroni.
2008
Alone, Galleria TubeGallery, Milano.
Overture, Galleria San Salvatore, Modena. I.Quaroni.
Whaleless , Strychnin Gallery, Londra. G.Cervi
Allarmi 2008, Caserma de Cristoforis, Como.I. Quaroni, A. Trabucco, A. Zanchetta
Arrivi e Partenze, Mole Vanvitelliana,Ancona. W.Gasperoni, A.Fiz.
2007
Fiabe crudeli, Museo Man, Nuoro. R.Vanali
Kick Off, Galleria K-Gallery, Legnano (MI).I.Quaroni.
2006
A Mare L'Arte, giovani proposte d'arte contemporanea, Centro Culturale Ex Lazzaretto, (CA), Promossa dalla Fondazione Bartoli-Felter e dal Lions Club di Cagliari. R.Musumeci.
ARTE & SUD, Castello Normanno. Acicastello(CT). R.Musumeci
2005
Creative Turbulences 2, contemporaneità della pittura, Castello Di S. Michele, Cagliari.