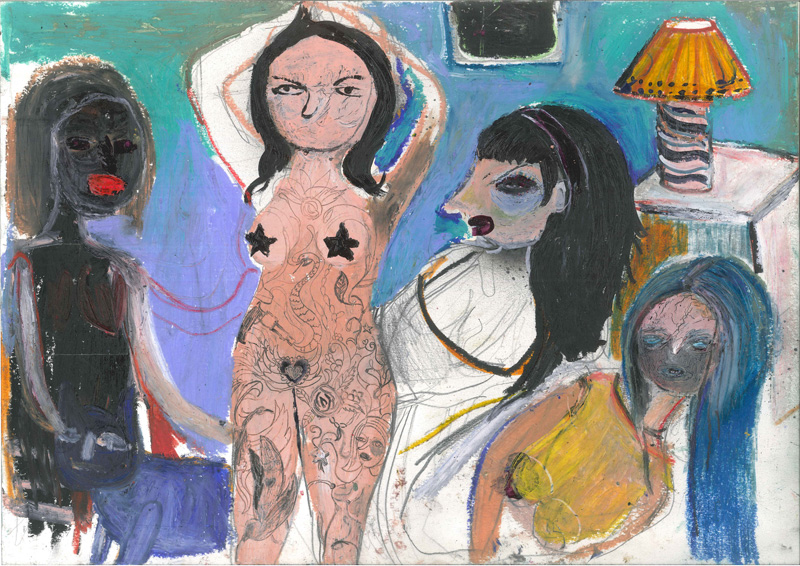 SILVIA ARGIOLAS  was born in Cagliari in 1977, now she lives and work in Milan.
Her research starts from a transposition of what happen in oneself exhistance, as facts, smell or meeting. Working through the pictorial medium, with a direct contact whit the canvas, she plays with a marked symbolism and with an expression of archaic flavour, linked also to a sociological research and an interest at the modern lacanian theories on psychology.
Among her solo show: in 2018 Il Mangiarsi Reciproco at Galleria Richter Fine Art in Rome; in 2017 Lalangue at Galerie Rompone in Koln, Germany; in 2015 Last Moments at Robert Kananaj gallery, Toronto; in 2014 A Day In The Life at L.E.M and Walk on the wild side (Conversion Of Evil) at Galleria Antonio Colombo, Milano; in 2012 You are not really so bad at Galleria D406, Modena and in 2011 The Season of the Witch at Galleria Antonio Colombo, Milano.
Among her group shows we can mention the most recent ones: in 2017 Gotico Sardo at CRAG Gallery, Torino; in 2015 PanoRama in Torino and La fomosa invasione degli artisti a Milano at Galleria Antonio Colombo, Milano; in 2014 Selvatico tre una testa che guarda at Museo Civico delle Cappuccine in Bagnocavallo (RA) and P2P #02 – Deep at Circoloquadro, Milano.
She has been exhibited also in many art fairs with Antonio Colombo Arte Contemporanea, such as Artissima in 2017.