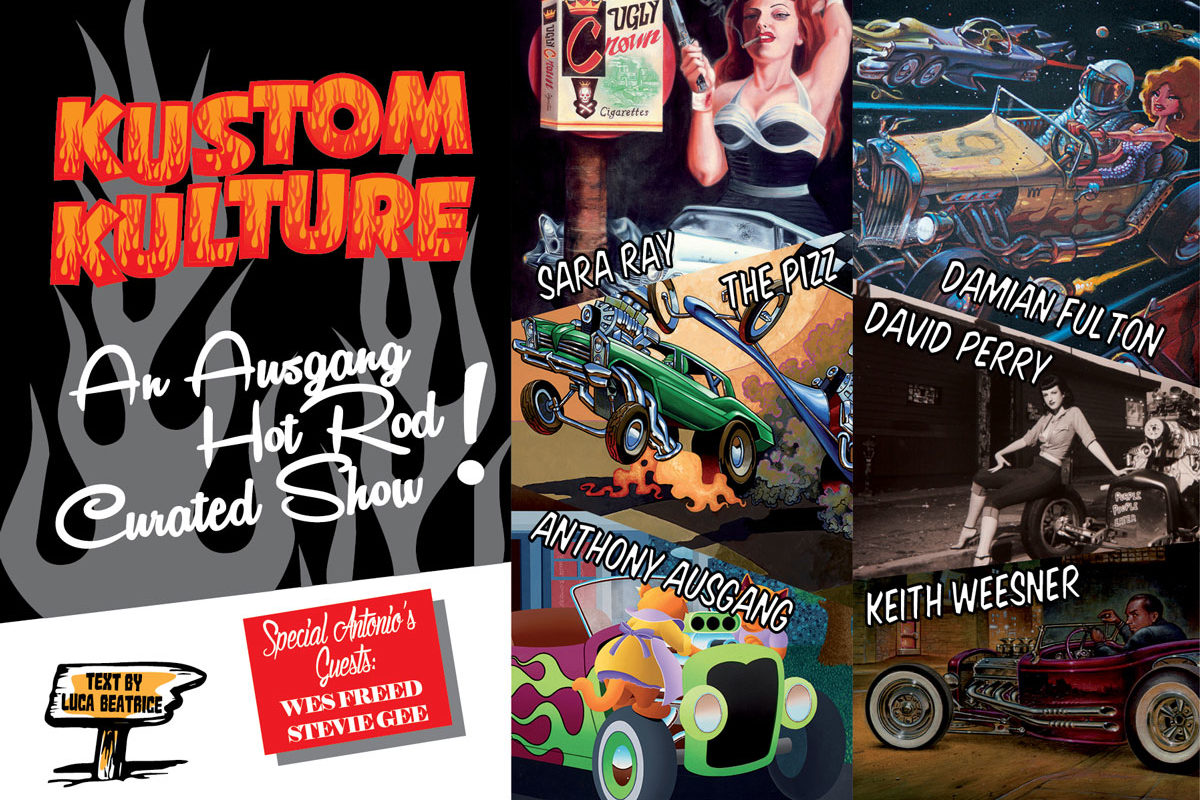 20.11.2014 – 31.01.2015
K.K. KUSTOM KULTURE
Anthony Ausgang – Damian Fulton – David Perry – Sara Ray – The Pizz – Keith Weesner
+ special guests: Stevie Gee and Wes Freed
curated by Anthony Ausgang
based on an idea of Antonio Colombo with the critical contribution of Luca Beatrice
The term Kustom Kulture, very widespread in American culture, is starting to meet with great interest in Italy as well, in different contemporary visual languages. The expression comes from the US underground and develops starting in the 1950s, but in recent times it has gone through a more complex, variegated evolution.
Custom (the initial K can be chocked up to poetic license) refers to the consumer, namely those who do not simply use objects as they are produced, but want to personalize them with minor interventions, or even transform them to the point of making them unrecognizable. In philosophical terms, we might say that it is the precise opposite of the mass market and standardization: no longer everybody equal in the name of a fashion or a trend, but everyone different, unique, unrepeatable, in the name of an irresistible urge to rise above passing fashions.
Kustom Kulture is thus applied to motorcycles – today the Specials are much more appealing than standard models – and cars – with the phenomenon of the Hot Rod (often vintage vehicles extensively modified, with "souped up" motors and bodywork featuring typical flame motifs) – but also to the visual arts, especially in painting and design.
Perhaps due to his tireless research in this field – his bicycles are embroiled in do-it-yourself culture – for some time now Antonio Colombo has poked his nose into this American phenomenon, resolving to bring a taste of this marvelous world to Italy. He says he wanted to "get my hands dirty with the American myth. That's why. Even though I drive ugly cars, badly, never get drunk and can't even play the mandolin, never mind a Stratocaster." And so "one fine day, obsessed for a lifetime by these images, I wanted to understand more about a fascinating, excessive, vulgar, legendary world that goes by the name of Hot Rod and Kustom Kulture. The American dream that almost everyone dreams, wind in long hair, speed, music, ZZ Top with some Eagles thrown in, graphics maybe I was also able to make, at my desk in the Giosuè Carducci high school."
This is how the idea happened of asking Anthony Ausgang, who had a show at the Colombo gallery curated by me a few years ago, to put together a series of protagonists and not from this extraordinary world. Including himself, of course, in their ranks.
Together, the three of us have shared in discussions, fascination and big dreams. For once, my role as a curator fades into the background, leaving me to happily handle the job of connecting Milan and America. I'll pass the mike to Ausgang, who can tell us about some of the protagonists of Kustom Kulture in the USA. For an audience of addicted and curious fans.
Luca Beatrice
Anthony Ausgang (born in 1959 in Trinidad & Tobago. Lives and works in Los Angeles).
Ausgang has already shown work at the gallery of Antonio Colombo in 2011. For this exhibition entitled KK Kustom Kulture he has decided to present works by some of the most intriguing artists of the Hot Rod scene. He talks about his work as follows, in a lucidly conscious way: "my objective is to modify the definition of figurative art using the anthropomorphic characteristics of cartoons to explain the human condition in a non-human context. The non-humanity of cartoons is a presumed innocence; above all, it is material for kids and regressive adults. But under the surface of my world inhabited by cats, some uncomfortable truths about the world of people are lurking: sexual enigmas, religious perplexities, drug use and boredom, are all concepts explored in my paintings. My program of psychedelic and colorful graphics is leading me towards an abstraction of the representation of these cartoon animals. Even though my paintings start out as drawings on paper, the computer has become an important part of the graphic development of my ideas. Once the drawings have been transformed on the monitor and I am satisfied with them, I get in front of the canvas with traditional brushes and paint. I care more about the content of a gumball machine than I do about what happens inside a contemporary art museum. My audience does not have to have artistic training, just an awareness of how absurd it is to be alive."
Damian Fulton (lives and works in Los Angeles).
Car chases, girls with guns and film noir nostalgia bring life to a visual narrative read like an Exploitation Movie. Damian has always been fascinated by LA beach culture, near one of the most congested cities in the world, on the Pacific Coast, a proximity that supplies fertile material for a dark stylistic approach to the California dream. The love of motorcycles, cars, the West Coast, classic cartoons and monsters is rounded out by an utterly personal and original Pop-Surrealist vision. Prior to working as an artist, Fulton collaborated with corporate realities like Disneyland, Marvel Productions and various lifestyle brands.
David Perry (born in 1959 in Denver, Colorado, lives and works in California).
From the stores of East Bakersfield to the dragstrips of California and Utah, through his photographs David Perry captures the American passion for speed, thrills and cars. Greasers, gearheads, dragstrip beatniks, rockabilly queens, hopped-up machines are the figures in his evocative images with a vintage look. He has a true thing about cars, shared with tattooed goateed hipsters, joined by Bonneville Salt Flats drivers and the dry lakebed of El Mirage. With his photographs, Perry displays the soul of a growing obsession.
Sara Ray (born in Hermosa Beach, California, lives and works in Los Angeles).
Sara was born and raised on the beaches of Southern California, right in the middle of everything that is Kustom Kulture. The Hot Rods of George Barris were parked in her family's garage, next to piles of surfboards. Her grandfather, Hap Jacobs, is one of the most famous surfboard shapers in the world. Her childhood was accompanied by motors, bonfires on the beach and tourists in Hollywood, all subjects that have found their way into her paintings. Sara's works are an inebriating mixture of supernatural drivers traveling roads by night, and tattooed, colorful girls; they reveal her love for her city and her passion for the vintage metal in its background. Her pictures have been published in many magazines and books: Easyriders, Guitar Player, Juxtapoz, Iron Horse. Sara Ray also custom-paints Fender, Gretsch and Jackson guitars. She does custom designs for motorcycle gas tanks for private clients. She lives in a house in Los Angeles and can often be seen behind the wheel of her '53 Buick, on the streets of the city, driving from one comics store to another.
The Pizz (lives and works in Los Angeles).
The automobile, more than a mere vehicle, has been reinvented in Southern California to represent an expression of style, independence and a way of being. The custom car, built by hand, redesigned with a precise idea in mind, is the hunting trophy of the modern man; it displays his prestige and his power, symbolizing who he is and how he moves in the world. A message that is transmitted both when the car is speeding down the street and when it is simply parked there.
Pizz's paintings represent precisely this world, this kingdom of the customized car, evoking an attitude and an environment. Every image depicts a given time of day, a specific place and atmosphere; a chromatic vibration obtained with a range of saturated colors and rich hues. Each work has a triangular balance of sex, death and something unknown. The narrative is left open to interpretation by the viewer, and the plot leaves more question marks than conclusions.
Keith Weesner (lives and works in Thousand Oaks, California).
Keith Weesner is a painter whose works are the expression of car culture, a widespread vision in Southern California, where he was raised by his father, an artist, pinstriper and lover of custom roadsters and hot rods. Weesner's passions gained strength during a period of training at the Art Center College of Design in Pasadena, where he studied car design. He then worked designing backdrops for Warner Brothers, and spent 13 years in different studios, including Disney. Starting in 2004 he made his entry in the official art world, with shows in various American galleries. Some of his works have been published in auto and tattoo magazines. Weesner lives in Thousand Oaks, California, with his wife and daughter.
As is always appropriate for this sort of gathering, there are also two special guests – not perfectly Hot Rod in character, but with a strong rock attitude – who make contributions in the Little Circus and the gallery:
Wes Freed (born in 1964 in Shenandoah Valley, Virginia, lives and works in Richmond, Virginia), creator of legendary covers of DBT (Drive-By Truckers, an alternative southern country-rock group), long a passion of Colombo, with vivid folk accents.
Stevie Gee (born in 1980 in Essex, UK, lives and works in London), illustrator, rock, surf, motorcycles and bicycles. Seen and appreciated by Colombo at Deus Ex Machina (a cult location for lovers of motorized wheels) in Venice Beach. He works with Paul Smith, Nike, Beams Japan, Death Spray Custom, Penguin Books and Deus Ex Machina.