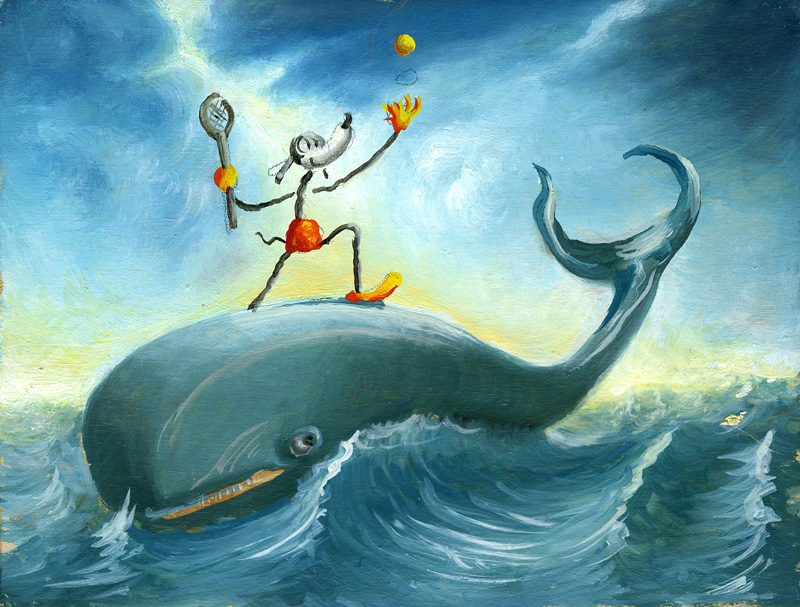 14.06 – 14.07.2012
OLINSKY – Nostalgia
Antonio Colombo presents, for Little Circus, the special project space inside the gallery, the solo show by Olinsky entitled "Nostalgia".
Olinsky, the legendary painter over the age of 100 from Western Slavonia has withdrawn from public life for many years now, leaving his archives in the hands of Prof. Paolo Sandano, who curates his exhibitions. For this occasion a large series of paintings on canvas and panels, of small to medium size, will be shown, in which the artist pays tribute, with a bit of appealing irony, to his favorite themes of art history. The works are very different from one another, and bear signs of the influence of artistic currents that were in vogue at the time they were made, ranging from Futurism to Impressionism, Realism and so on. Olinsky, in fact, born way back in 1886, has had the opportunity to absorb different ways of seeing and reproducing thoughts through a wide range of techniques, from the most dated to the most contemporary.
Prof. Paolo Sandano, curator of the Olinsky Archives, tells us that the master wants to pay homage, with this "work/installation", to a painting by Watteau, L'Enseigne de Gersaint, one of his favorite artists. The exhibition will also include an original short film, Olinsky by Bart Herreman, and texts recently written by Ivan Quaroni and Giorgio Zanchetti about the artist will be available.
Paolo Sandano
The artistic background of Paolo Sandano can be said to be entirely Venetian, since he studied at the Fine Arts Academy of that city. In Venice he also began to show his work, in the context of the Fondazione Bevilacqua La Masa, starting in the 1980s. He has had solo shows in Paris (Galleria Krief 1985), Trieste (Galleria Tommaseo 1990), Venice (Galleria del Cavallino 1991) and Milan (Galleria Gariboldi 1993). Since 1995 he has completely changed his approach to art, using the pseudonym Olinsky, with which he has begun to make raids into the world of contemporary art.
Olinsky
Among the major exhibitions: 1996 "Olinsky", Galleria l'Affiche, Milan; 1997 "Premio Flash Art Museum", Trevi, "Opera Formosa: Kounellis, Boetti, Canevari, Arienti, Olinsky, Faraldo", Sorros Center for Contemporary Art, Kiev, "Olinsky", Galleria Tommaseo, Trieste; 1998 "Olinsky" Galleria Placenta, Piacenza, "E i francesi ci rispettano", Fortezza Firmafede, Sarzana, "Senza Titolo", Galleria Bedoli, Viadana, "Rock around the Clock", Galleria Ciocca, Milan; 1999 "Fine Weather", Ludwig Museum, Budapest, "Omaggio Oltraggi", Galleria Ciocca, Milan, "Finzioni-Olinsky e Margaretha Zelle", Studio Venticinque, Milan; 2000 "Ironic art" – Ironia nella giovane arte italiana, Trevi Flash Art Musuem, Trevi (PG); 2003 "50 innaffiatoi per Fabio giardiniere" , Spazio Ratti, Milan; 2004 "Olinsky, la collezione ritrovata" , Galleria L'Affiche, "Olinsky, l'anima russa di un pittore veneziano" – Galleria Michela Rizzo, Venice, solo show, 2007 "13×17" 1000 artisti per un'indagine eccentrica sull'arte in Italia; 2012 "Olinsky" – Bam di Porretta Teme (BO). Writings about Olinsky: Giulio Alessandri, Getulio Alviani, Botanico Fabio Bedini, Giuliana Carbi, Martina Cavallarin, Giacinto Di Pietrantonio, Paolo Lavezzari, Federico Marchini, Giampaolo Mascheroni, Ivan Quaroni, Michael Robson, Cecilia Scatturin, Saverio Simi de Burgis, Francesco Tedeschi, Sergio Vanni, Giorgio Zanchetti.