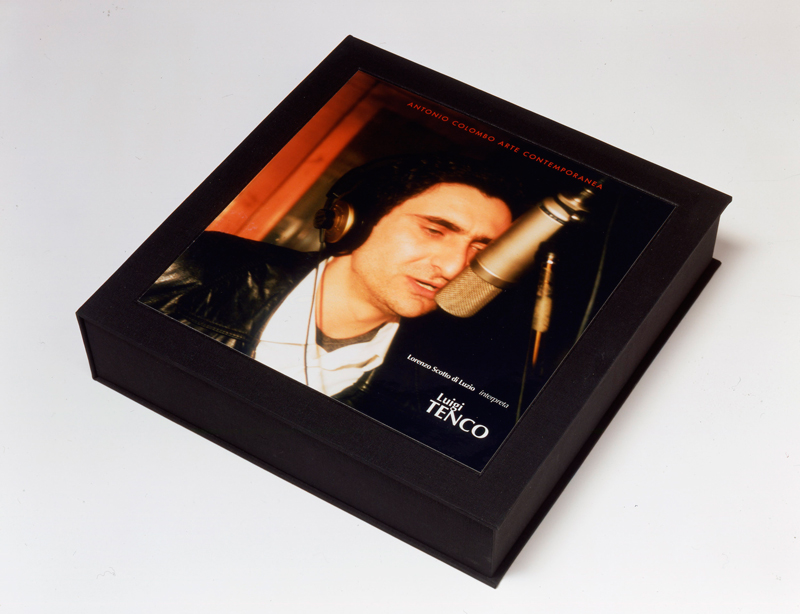 18.03 – 4.04.2003
LORENZO SCOTTO DI LUZIO SINGS LUIGI TENCO
The Antonio Colombo gallery is pleased to present the latest work by Lorenzo Scotto di Luzio, a tribute to the great Italian singer-songwriter Luigi Tenco.
The work is organized on different levels and utilizes different expressive languages: photography, music, voice, recording, in a collaborative operation that celebrates the legend of Tenco 36 years after his tragic death. With the musical group Le loup garou and production by the Naples-based label Neapolitan Surfers, Lorenzo Scotto has selected, sung and arranged 10 of Tenco's most beautiful songs, recording them on a high-fidelity vinyl LP.
The packaging of the LP features ten different covers. Here the artist has worked with the imagery of Tenco from the past, as well as certain period photographs from albums of Italian pop music.
Pozzuoli, the location of the cover photo, becomes Genoa in the late 1960s, thanks to the photos by Donatella di Cicco. The result is an authentic record-object that connects Scotto di Luzio to Tenco, like a bridge spanning past and present.
This work was first presented in the exhibition Qui e ora, curated by Gianfranco Maraniello and Achille Bonito Oliva, now in progress at Castel Sant'Elmo in Naples.
Lorenzo Scotto di Luzio was born in 1972 in Pozzuoli (Naples), where he lives and works.
Main solo shows: 2002 "Love me tender", Antonio Colombo Arte Contemporanea, Milan; 2001 "Cool Memories", Galleria T293, Naples; 2000 "Understatement", Galleria ES, Turin, and "Istanteternanee", Jangva Gallery, Helsinki; 1999 "Op-Là", Galleria De Crescenzo e Viesti, Rome; 1997 "Cheese", Magazzino d'Arte Moderna, Rome; 1996 "Senza Titolo", Galleria Vera Vita Gioia, Naples. Main group shows: 2002 "L'arte del gioco. Il gioco dell'arte", Museo archeologico regionale, Aosta, curators P. Bellasi, A. Fiz and T. Sparagli; "Qui e ora", Castel Sant'Elmo, Naples, curators Gianfranco Maraniello and Achille Bonito Oliva; "ExIt-Nuove geografie della creatività italiana", Fondazione Sandretto Re Rebaudengo, Turin, curator Francesco Bonami; "A constructed world – Geoff Lowe + Jacqueline Riva", Serpentine Gallery, London; "Prototipi", Fondazione Adriano Olivetti, Rome; 2001 "Untitled", Castel San Pietro Terme, "Cosa arcana e stupenda", Sermoneta, "Enola Play", Antonio Colombo Arte Contemporanea, Milan, "L'attesa", Stazione Marittima, Naples, "Emporio", Viafarini, Milan; 2000 "Futurama", Centro per l'Arte Contemporanea Luigi Pecci, Prato, "Castelli in aria", Castel Sant'Elmo, Naples, "Nato", Gale Gates et-al, Brooklyn, New York, "Periplo Italiano", Salara, Bologna. 1998 "Lepisma Saccherina", Magazzino d'Arte Moderna, Rome; 1997 "Aperto 97", Trevi Flash Art Museum, Trevi.