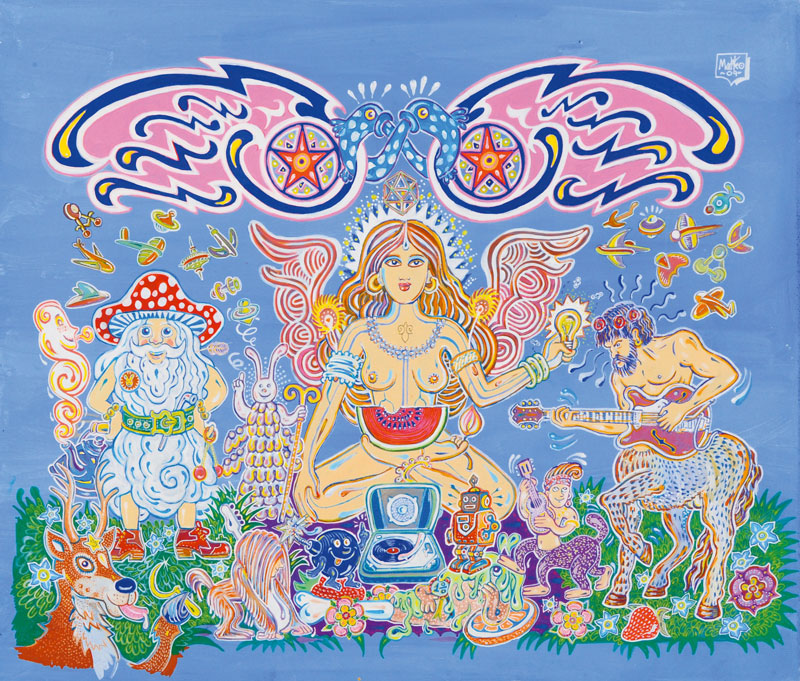 18.09 – 7.11.2009
MATTEO GUARNACCIA – Another Fucking Art Show
curated by Sergio Calatroni
Galleria Antonio Colombo opens the season, in September, with an exhibition of the work of Matteo Guarnaccia, the first complete show of its kind in a Milanese gallery, curated by Sergio Calatroni.
An artist and inventor of worlds, Guarnaccia has created a unique iconography, detached from fashions, whose central theme is harmony and the connections between all life forms.
His art is so free that it eludes any attempts to label it or classify it that have been made over time – king of psychedelia, pop agitator, visionary, contemporary Bosch, guiding spirit of the underground. For him, "underground" has never meant the banality of transgression as an end in itself, but the loving cultivation of the ethical values that form the basis of being human.
He has come to terms with the Pre-Raphaelites, Surrealism, Dada, Pop Art, Primitivism, Indo-Himalayan and Pre-Columbian art, reaching an essence made of humor, eroticism, mysticism, with reminders of the cartoons of the 1930s.
As Sergio Calatroni writes in his introduction, the art of Matteo Guarnaccia emanates "a shared knowledge, not a celibate one. A knowledge that has the power to influence and change the reality of things, which are not immutable. A beneficial knowledge that always continues to widen". And then: "It has a prevalently votive dimension that is also auspicious, because it points to new latitudes of intuitions and visions that always refer to the extraordinary energy of joy and love. In an era marked by conflict and division, every clue that draws us toward a dimension of solemn, sunny admission to goodness is a very precious gift".
The theme of the exhibition, provocatively entitled Another Fuckin' Artshow, reprises the vividly psychedelic imagery of the magazine "Insekten Sekte" the artist founded (when he was just 15) and spread around the world, from London to Goa, between 1969 and 1975; a mad, nomadic, clandestine sheet, the hypothetical meeting place between Frank Zappa, Lewis Carroll and Carlos Castaneda.
For the occasion, a special limited edition will be made of some of the issues of this legendary magazine, gathered in a special folder accompanied by an unpublished "ghost" issue.
Matteo Guarnaccia is also showing a series of paintings on canvas and drawings on paper that unleash luxuriant tribal worlds and unexpected, fantastic maps of the city of Milan (proposed for a de-materialized Expo). A series of cosmic garden visions, a magical, charming guide to help us observe the world around us with new eyes.
The inborn curiosity of Matteo Guarnaccia has led him to approach the widest range of fields of expression. An attitude the Japanese critic Yaneura has recognized as the most precious aspect of Italian DNA: for him, our artist is a perfect example of the "Renaissance Man".
In fact, looking through his biographical notes, we see him navigating from art (international exhibitions, installations at the Milan Triennale or the Hall of Flowers in San Francisco) to fashion (Biba, Corso Como 10, Vivienne Westwood, Malo); from design (Bruno Munari, Atelier Mendini, Italo Rota & Partners, Yoox, Coin) to writing (about 20 essays on 20th-century avantgardes/countercultures); from journalism (Vogue, Rolling Stone, Abitare, Zoom, Gap Japan, Wired, D-La Repubblica, Alias) to teaching (visiting professor at NABA, DAMS, Domus Academy, Accademia di Carrara, IUAV); from curating (the first exhibitions held in Europe on Skate Art, on the Provos movement, on Psychedelia, the first Italian show on Vivienne Westwood, a show on Giorgio Gaber) to music (Byrds, Donovan, Timoria).
Matteo Guarnaccia was born on 19 December 1954 in Milan, where he lives and works.