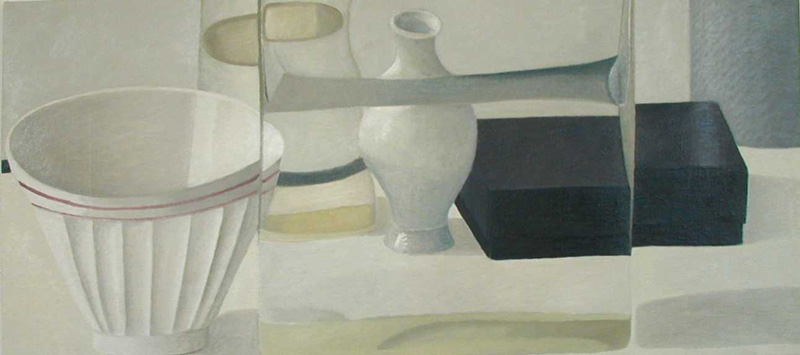 6.04 – 13.05.2000
NATHALIE DU PASQUIER – Ritratti di oggetti
curated by Marco Meneguzzo
In this new exhibition at the Antonio Colombo Gallery – her first, with large works on paper, was in 1998 – the French artist presents a series of canvases and paintings on MDF panels, whose subject might be defined as an "off-scale portrait" of everyday objects, like a jar, a stapler, pincers, a small statue…
The sense of disorientation caused by the "nude" giganticism of these painted objects has distant roots in art history, but at the same time it adds something to "magical realism", to "New Dada" or Pop Art, all movements that can be seen as points of reference here: in fact all this is a part of the picture, but Du Pasquier manages to avoid the pitfalls of citation, through an apparent naiveté (in the choice of the subject, in the painting technique) that forces our gaze and our intelligence into a conceptual territory that makes use of memory – historical, critical, artistic memory – while forgetting it in the very same instant.
In the fall, in Bologna, at the gallery LB Contemporary Art of Giampaolo Becherini, another solo show will be held of the works of this artist.
For both shows a catalogue is available at the gallery, with a text by Marco Meneguzzo.
Nathalie Du Pasquier (Bordeaux, 1957) lives and works in Milan since 1979.
She has participated in many exhibitions in Italy and abroad, including the annual shows with Le Cadre Gallery in Hong Kong, the shows in Milan at Galleria Jannone in 1987 and 1994, in 1993 in Edinburgh at the Fruit Market Gallery, in Mantua at Galleria Corraini (1996), in 1997 in Belfast at the Fenderesky Gallery. In 1998, after the solo show at Antonio Colombo Arte Contemporanea, she had a show in Munich at the Christa Burger Galerie. For 2000 she will have solo shows at the Fenderesky Gallery in Belfast (16 February), the Rubicon Gallery in Dublin (12 April), the gallery LB Contemporary Art of Giampaolo Becherini in Bologna (from '11 May), and will take part in two group exhibitions in Milan: at the PAC, curated by Alessandro Riva, and at Palazzo Durini, curated by Antonio D'Avossa, and in a group show at the Consortium of Amsterdam, curated by Chiara Guidi.