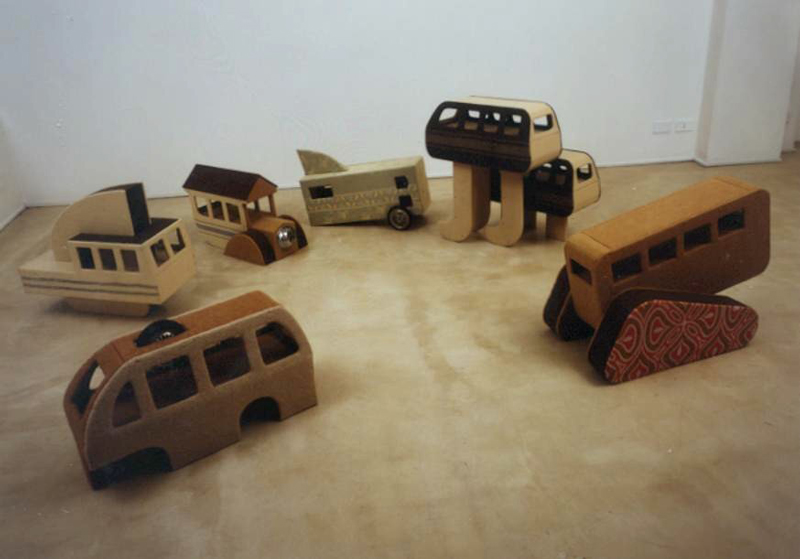 30.05 – 13.07.2001
ENOLA PLAY
a cura di Raffaele Gavarro
Invented and curated by Raffaele Gavarro, ENOLA PLAY combines the work of Pierluigi Calignano with that of Andrea Contin and Lorenzo Scotto di Luzio.
ENOLA PLAY starts with the idea of play not so much as a process of learning and education, as in the metaphorical sense of the evolution-becoming of time and space.
Obviously this is a stimulus for reflection stemming from the "tragic play" on which Nietzsche constructs a central part of his thought.
Returning to this reflection in the light of new developments in play – brought about by new technologies – which with increasing clarity appear as a metaphor for the "cosmic game", seems essential not only in the sphere directly related to the new technologies, but also and above all in areas in which their implications are only apparently secondary.
ENOLA PLAY presents works, in fact, that have nothing to do with new technologies.
The works are three installations, one by each artist, that act directly on everyday life and the domestic environment, transfigured in a tragically playful dimension.
The installations are accompanied by a series of drawings and graphic works.
Pierluigi Calignano, (born in Gallipoli in 1971, residing in Milan) – Solo shows: 1999 at Pratesi in Rome, 1998 at Galleria Salvatore Ala in Milan and Placentia Arte in Piacenza. Main group shows: 2000 at Centro per l'arte contemporanea Luigi Pecci in Prato, Trevi Flash Art Museum in Trevi, 1999 at De Crescenzo & Viesti in Rome, Salara in Bologna, Posteria in Milan, Ex Mattatoio in Rome and Santuario di Oropa in Biella.
Andrea Contin, (born in Padua in 1971, where he resides) – Solo shows: 2000 at Graffio in Bologna, Loft Arte in Valdagno, 1999 at the galleries Estro and Fioretto in Padua, Zoom in Bologna. Main group shows: 2000 at Viafarini in Milan, Villa Trissino in Cornedo, the Museo Civico degli Eremitani in Padua and at the galleries Fioretto in Padua and Loft Arte in Valdagno.
Lorenzo Scotto di Luzio, (born in Pozzuoli in 1972, where he resides) – Solo shows: 2001 at the gallery T293 of Naples, 2000 at the Es Gallery in Turin and Jangva Gallery in Helsinki. 1999 at De Crescenzo and Viesti in Rome, 19'97 at Magazzino dell'Arte moderna of Rome, 1996 at Galleria Vera Vita Gioia in Naples. Main group shows: 2001 at Viafarini in Milan, 2000 at the Pecci Museum in Prato, Castel Sant'Elmo in Naples, Gale Gates et-al in New York, Salara in Bologna.