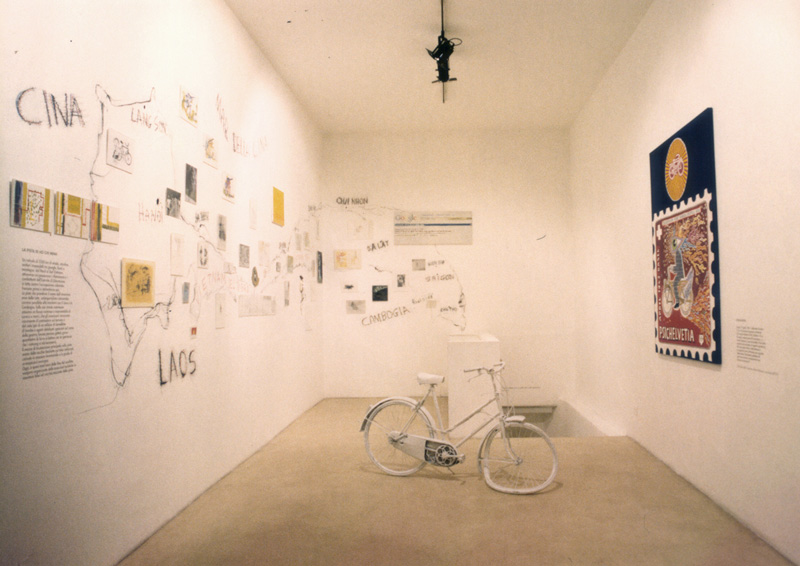 18.09 – 26.10.2001
SENZA MANI! PROVOS E BICICLETTE BIANCHE
curated by Marco Cingolani and Matteo Guarnaccia
For the first time in Italy, an exhibition on the Dutch Provos ("provocateurs") movement. An anti-authoritarian, non-violent, ante litteram environmentalist group that was a source of inspiration for the protest movements in Europe and America in the 1960s. Composed of an unusual brotherhood of artists, troublemakers and visionaries, in 1965-67 the movement founded a fleeting, illegal Anarchic Republic in the streets of Amsterdam, based on happenings and practical jokes. Masters of media manipulation, cultivators of the transformation of art from decoration to an expression of freedom and the joy of living, the Provos constantly moved on a collision course with the establishment. Their perception of "moving through the world like cyclists on a superhighway" prompted them to select a bicycle, painted white, as their totemic symbol; a collectivized bicycle, but at the same time an ingenious reincarnation of the Dada rocking horse, and a weapon against capitalist private property. The Provos, as a perfect prototype of homo ludens, illegitimate offspring of Situationism, also brilliantly interpreted and reintroduced shamanism into western culture (as proven by the space devoted to them in the epochal exhibition on shamanic civilizations "From Siberia to Cyberspace", held at the Tropenmuseum of Amsterdam in 1997).
NO HANDS!, in an exploration of the rebellious, initiatic aspect of the bicycle, exhibits a rare series of original documents on the Provos (photos, flyers, posters, publications, videos) accompanied by a visual and audio itinerary connected with the deviated and transgressive use of the bicycle: from the father of pataphysics Alfred Jarry to the Rote Arme Fraktion, from the suffragettes to the inventor of LSD Albert Hoffman, from the Warholian muse Nico to the Viet Cong, from Pierre Clementi protagonist of "Sweet Movie" to the Swiss rebel Annemarie Schwarzenbach, from the New York bike messengers to the psychedelia of Tomorrow.
One section of the exhibition will be on the legendrary Ho Chi Minh Trail through the jungle of Indochina from the North to the South, utilized by the anti-imperialist guerrillas to transport supplies and munitions on old French bicycles with reinforced frames. This will be the theme of an installation, reproducing the map of the Ho Chi Minh Trail on one wall of the gallery. The installation includes contributions by about thirty artists, including: S. Arienti, A. Aquilanti, L. Arrhenius, S. Avveduti, Bad Trip, A. Bazan, C. Benvenuto, L. Bertasso, P. Calignano, M. Calvert, M. Cannavacciuolo, P. Capogrosso, D. Casini, M. Cingolani, A. Contin, A. Damioli, M. Dellavedova, N. Du Pasquier, F. Fusi, D. Galliano, F. Gilberti, G. Guatta, M. Manetas, L. Pancrazzi, M. Papa, A. Pessoli, G. Pontrelli, A. Salvino, L. Scotto di Luzio, N. Verlato.
The show will also include a pair of works by Matteo Guarnaccia on the Provos and Albert Hoffman, and original photos taken in 1966 by Massimo Vitali during a Provos event in Amsterdam.