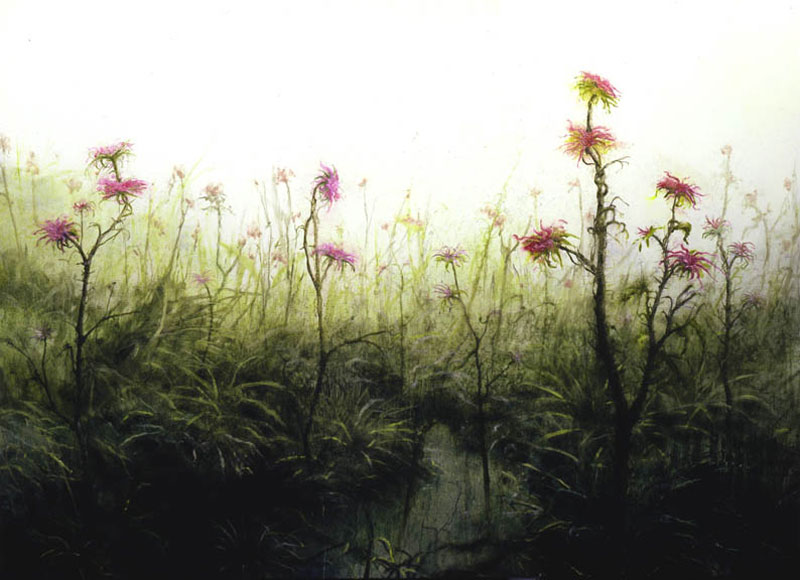 6.03 – 9.05.2008
Francesco De Grandi – Il Monte Analogo
curated by Andrea Bruciati
On 6 March Antonio Colombo presents Il monte analogo, the first solo show by Francesco De Grandi at the gallery.
"The path is before you, confused by false appearances. The plants do not proceed in a straight line", De Grandi observes. As in Heart of Darkness, a savage, inhospitable land seems to come alive around the reader, with its rustlings and unexplored mysteries. The artist, in these large arboreal representations, these canvases where the gaze simultaneously skims and penetrates, and where the landscape is only suggested, seems to return to the voyage made in 1890 by Conrad on the steamship Rois de Belges on the Congo River, in the heart of Africa.
Both share a path of initiation, the same experience of terror, fear, doubt, uncertainty, expectation, of what awaits us when we set off on an inner, more than geographical, path. We sense the rhythm of brushstrokes rather than steps, and a sensual, almost musical arrangement of light seems to accompany us. The paintings, too, are terrifying, disturbing, an excursion along hidden paths of the mind: hallucinated, intricate, humanly inhuman, strident and contaminated, at the same time, yet very refined. Behind that mysterious wandering through wings, that pure primordial sky, the artist glimpses a road to knowledge. He hypothesizes a sort of steep path, an ascent to Mount Analogue, to cite the famous novel by René Daumal on which De Grandi has based his work, which offers a glimpse of symbolically authentic salvation of the individual. In the paintings a stylistic rarefaction of the brushstroke takes place, thanks to a clear light, free of any naturalistic compromise. On this path, the painting is enriched by an almost sacred quality, bringing Nature closer to a metaphysical purification of the being by now renewed.
FRANCESCO DE GRANDI was born in Palermo in 1968. He lives and works in Milan.
Main solo shows: 2007 Scuola di pittura, Galleria Civica, Trent, cur. O. Berlanda and G.M. Montesano. 2006 Personal Pantheon, Studio d'Arte Cannaviello, Milan. 2004 Notte Saturnina, Studio d'Arte Cannaviello, Milan. 2003 Disegni, Nicola Ricci Artecontemporanea, Pietrasanta (LU).
Main group shows: 2007 L'immagine sottile, Galleria Comunale d'Arte Contemporanea, Monfalcone (GO), cur. A. Bruciati; WunderGarten, Orto Botanico, Palermo, cur. H. Marsala; Arte Italiana.1968-2007 Pittura, Palazzo Reale, Milan, cur. V. Sgarbi; Arcani Maggiori, Antonio Colombo Arte Contemporanea, Milan, cur. M. Kaufmann; Apocalittici e Integrati: utopia nell'arte italiana di oggi, MAXXI (Museo nazionale delle arti del XXI secolo), Rome, cur. P. Colombo. 2006 Stilelibero, Museo SpAC, Buttrio (UD); Sicilia!, Galleria Credito Siciliano, Acireale, cur. M. Meneguzzo; Senza Famiglia. Storie di amicizia nell'arte italiana, Promotrice delle Belle Arti, Turin, cur. L. Carcano. 2005 Altri fantasmi, Ermanno Tedeschi Gallery, Gagliardi Art System/Gallery, Galleria In Arco, Turin, cur. M. Kaufmann, L. Carcano , N. Mangione; Carla, Salvo e i siciliani, Andrea Arte Contemporanea, Vicenza, cur. L. Beatrice. 2004 Anteprima.XIV Esposizione Quadriennale d'Arte di Roma, Promotrice delle Belle Arti, Turin; L'occhio, l'orecchio, il cuore. La musica nell'immaginario degli artisti contemporanei, Palazzo Ducale, Lucca; Italian paintings: a new landscape, Galleria Hof & Huyser, Amsterdam, The Netherlands.