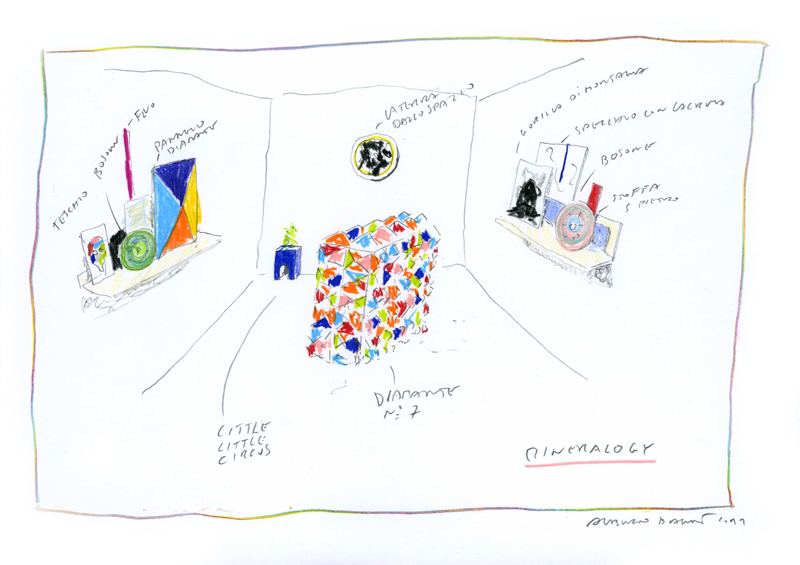 15.09 – 15.10.2011
ALBERTO BIAGETTI – Mineralogy
Antonio Colombo presents, for LITTLE CIRCUS, the special project space inside the gallery, a solo show by Alberto Biagetti entitled Mineralogy.
In the small room, we see the Earth, moving away from us…
At the center a multicolored chest (Diamante no.7), part of the I DIAMANTI collection, 39 unique, unrepeatable pieces, like diamonds, each with its own reflections and glow.
Inside this furniture-sculpture there are four installations. The first two are compositions of raw materials, fragments, samples and memories, gathered and divided into families, possibilities, agreements and possible fates. The third and fourth installations are breaches, different perspectives, further possibilities regarding space and perception.
At the same time, the gallery presents the solo show by Eric White, Automatic.
Alberto Biagetti  was born in Santarcangelo di Romangna in 1971. He started working as an architect at Luca Sacchetti Studio. A few years later he founded the school of Art, Design and Architecture FUTURARIUM (now NABAFuturarium) in the gallery Ettore Sottsass in Ravenna for the Museum of Contemporary Furnishing, where the likes of Ron Arad, Gaetano Pesce and Johanna Grawuder have exhibited. In the following years Biagetti and Guerriero opened the studio Radiosity in Milan. Between 1996 and 2002 Radiosity was very active and made significant collaborations in architecture and design with some important Italian companies and institutions including RaiSat, Fiat, Benetton and Bastogi. At the turn of the century Biagetti accepted the assignment for the artistic direction of YOOX Group that within a few years became point of reference on the Internet for major fashion houses including Valentino, Roberto Cavalli, Marni, Stone Island, Jil Sander and Armani with whom Biagetti has cooperated to create new virtual worlds and installations. In 2003 he opened Atelier Biagetti, an aesthetic factory that deals with design, architecture, fashion, painting, decoration and technology. It is an heterogeneous working group where architects, designers, artists, technicians and web designers all find their space. In addition to works produced by the Atelier, Biagetti has designed and worked with some of the major brands of Italian design, including Memphis-Post Design, DeVecchi and Venini the historic Venetian Glass makers for whom he designed both vases and other glass pieces as well as the showroom in Via Montenapoleone in Milan. In 2011 he presents the new collection of one-of-a-kind vanity pieces, the Diamanti. Chests, a wardrobe, cabinets for treasured things, all unique, unrepeatable. Not only everyday useful objects, then, but also striking sculptural presences capable of setting the stage for the idea of a new domestic landscape. Biagetti's work is the result of multiple linguistic inventions, he has exhibited in major galleries, cultural centers and museums, including Italian and international, to name a few, Marconi Gallery, Hangar Bicocca, Cartiere Vannucci, the Triennale di Milano, Loggetta Lombardesca Ravenna.