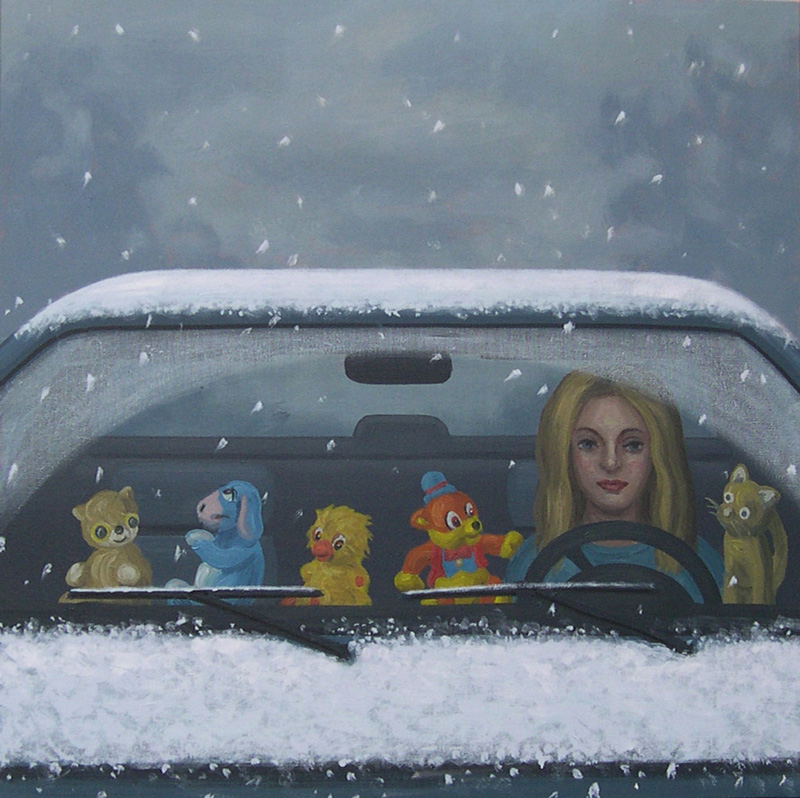 7.11 – 24.11 2011
ALDO DAMIOLI – 48 Pezzi Facili
Antonio Colombo presents for LITTLE CIRCUS, the gallery's special project space, located inside the gallery, the solo show by Aldo Damioli: 48 pezzi facili.
An exhibition of original works, never shown before, by Aldo Damioli (all 40×40 cm). A gathering of 48 pieces, a sort of diary of ideas that have taken form over the last few years. In relation to larger, more complex projects, they are like short stories as opposed to novels, starting points for things on a bigger scale, openings that lead to new viewpoints. Imaginary pages where the ecumenism of the subjects is the prevailing feature, the key of interpretation. The style is simple and linear, offering maximum visibility. Works conceived and made in a fluid system, with timing dictated by the images themselves.
To modify the motto of Pablo Picasso, "I do not seek, I try".
Aldo Damioli was born in 1952 in Milan, where he lives and works. He has participated in numerous important exhibitions in Italy and abroad, we mention just a few: 1999 He's one of the artists at XIII Quadriennale d'Arte di Roma, 2000 participates to L'altra metà del cielo, by Alice Rubbini and Peter Weiermair at Rupertinum in Salzburg, which continues at Kunstsammlungen in Chemnitz, to land in 2001 to Galleria d'Arte Moderna in Bologna and in 2002 at Museo d'Arte moderna in Budapest, again in1999 participates to the show Sui generis by Alessandro Riva; 2004 prepares a solo show at Palazzo Frisacco in Tolomezzo, Udine. In 2005 participates at 2° Biennale in Beijing, and at Fuori tema italian feeling, for the 14° Quadriennale in Roma; in 2006 participates to Ironica – La leggerezza dell'ironia, by Valerio Dehò and Elena Pontiggia at Galleria del Gruppo di Credito Valtellinese in Milan; in 2007 He's invited to the exhibitions: Nuovi pittori della realtà, by  Maurizio Sciaccaluga in the prestigious setting of Palazzo Reale; in the same year participates also toLa nuova figurazione italiana. To be continued… at Fabbrica Borroni in Bollate, to the show Anatomia dell'irrequietezza by Luca Beatrice at Palazzo della Penna in Perugia, and to Linee all'orizzonte by Maurizio Sciaccaluga at Galleria d'Arte Moderna in Genova. In 2010 participates to Nuovo paesaggio italiano at Fondazione Magnani Rocca in Traverseto, Parma; in 2011 at 54°Biennale in Venezia padvillon Italia.