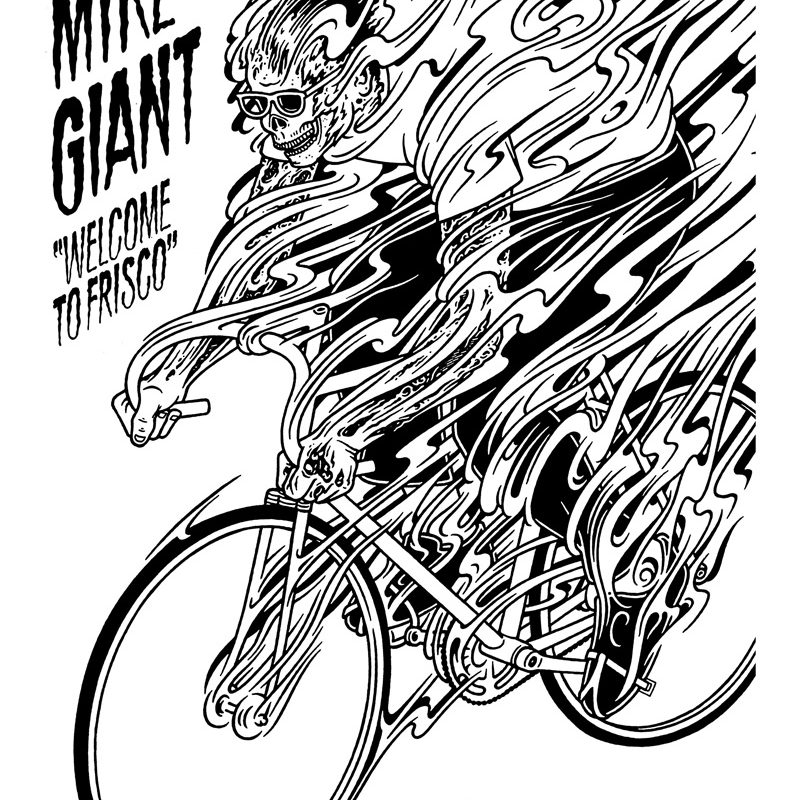 25.02 – 10.04.2010
MIKE GIANT – Welcome to Frisco
Curated by Silvia Girardi
On February 25th 2010 Antonio Colombo Arte Contemporanea of Milan opens the first solo show in Italy by American artist Mike Giant.
"I got the name Giant from skating with some friends, actually, I fell down really hard, and this guy I went with said 'it felt like you went down like a giant' and at that time there was a graffiti just across the same ditch we were skating, and I just kinda thought 'oh that could be my name!' and it is generic as that, you know, and then I started writing it maybe a month or two after that." Mike Giant
Master of black and white, and representational leading figure of the mid-1990s underground movement in San Francisco, Giant is internationally known for his graffiti, his skateboards, his tattoos and the immaculate precision of his graphics.
Born in Upstate New York, Giant moved to Albuquerque, New Mexico as a child, where he later studied architecture. In 1993 he was offered a position drawing graphics at Think Skateboards in San Francisco. There he stayed for the next ten years developing his unique artistic style and becoming a leading figure of the street art scene.
At first most known for his graffiti art, recognizable by solid letterforms, his tattoo work has also become internationally renowned over the last decade. Since 1998 Giant has been working at remarkable tattoo shops in San Jose, San Francisco and New York City, next to Paco Excel, Mike Davis and Patrick Conlon. His recent work can be seen in the 2004 tattoo issue of Juxtapoz magazine.
In 2003 Giant returned to Albuquerque and opened the tattoo shop, Stay Gold. Back to San Francisco in 2007 he retired officially from tattooing and devoted his time to a more intentional way of drawing, very much guided by Buddhist meditation.
In February 2002, Giant had his first solo exhibition at WDWA Gallery in New York. His work has been seen in Tokyo with Sam Flores and Bigfoot, at Misanthropy Gallery in Vancouver, at Magda Danysz Gallery in Paris, as well as at numerous venues in San Francisco and Los Angeles. His drawings can be found on the latest Cinelli book, on apparel from Tribal Gear, Upper Playground, and REBEL8 clothing, his signature brand.
About the street scene in San Francisco he says: "First of all, I'm a 'grandpa hipster', and it suits me just fine. And after dedicating almost 20 years to writing graffiti, I hope it never dies. And as for track bikes, there have been hip, cocky young men and women riding them around the streets of San Francisco for over 100 years! Look it up. None of this stuff is played out, dead, or otherwise. It's ongoing."
For this unique Milan exhibition Giant created a new body of graphics, narrating stories of voluptuous urban femme fatale's on bikes, religious iconography, street views of San Francisco, a few indispensable skulls, unavoidable memento mori of the street world.
A video loop created by Giant's friends and collaborators Colin Arlen and Sean Patrick will tell about his lifestyle; we will see him in action, biking his way around Frisco, writing on walls or on candid paper, and saying it in his own words…a black and white peaceful underground explosion.
Mike Giant was born in Upstate New York in 1971. He lives and works in San Francisco, California.
Solo shows: 2010 Welcome to Frisco, Antonio Colombo Arte Contemporanea, Milan; 2009 Galerie Magda Danisz, Paris; 2008 White Walls Gallery, San Francisco, CA; 2007 Giant + Dalek, Galerie Magda Danysz, Paris; 2006 Diary of a Madman, Best, London; Visions of Strength and Beauty, Colette, Paris; 2005 Las Chicas de Burque, Lab101 Gallery, Culver City, CA; Mi Chica Sabrosa, Nomad, Toronto (Canada); Kundalini, The Erotic Museum, Los Angeles, CA; 2004 The Additive Method, Misanthropy Gallery, Vancouver; 2002 WDWA Gallery, New York; 2001 Heads of State, The Link Gallery, San Jose, CA.
Group shows: 2006 Skulls, Wheels, and Ink, Outre Gallery, Melbourne (Australia); New Works by Mike Giant and Mike Davis, White Walls Gallery, San Francisco; Fecal Face, 111 Minna Gallery, San Francisco; Art of Hysteric, Hong Kong; 2004 Circle, Brooklyn Projects, Los Angeles; Juxtapoz 10th Anniversary, 111 Minna Gallery, San Francisco; 2003 Buck Funnies, Heaven Gallery, Chicago, IL; Career Day, MOCADC, Washington DC; 2002 BEAMS BEAMS Ts, Tokyo; Suits Made to Fit, Works Gallery, San Jose, CA; 2000 Applied Science, The Lab, Baltimora, MD; Sketch, Juice Gallery, San Francisco.
Silvia Girardi is an Italian private dealer and curator based in San Francisco, California. Over the last five years she has been presenting to the American audience the works of international contemporary artists with an emphasis on the renewal over the past decade of the Italian art scene.
Mike, a giant talent
by Luca Beatrice
The news will undoubtedly be of interest to fans of alternative culture and serious underground. Robert Williams, historic founder of Juxtapoz, theorist of Pop Surrealism and Lowbrow, creator of the legendary censored cover of Appetite for Destruction, the first Guns and Roses album (showing a flying monster that defended a girl raped by a robot), has been selected by Francesco Bonami for the Whitney Biennial opening right now in New York. This episode should not be underestimated, as it is another step forward in the rethinking of the relationship between Art with a capital A and all the many "low" practices that have brought energy and cultural stimuli to several generations. With respect to Europe, America is certainly quicker to eliminate useless hierarchies between high and low things. In Disparities & Deformations. Our Grotesque (the 5th International SITE Santa Fe Biennial, 2004-05) Robert Storr, previously the director of a rather boring Venice Biennial, compared the oddities of illustration and comics, in the works of people like Peter Saul, R. Crumb and Charles Burns, with the very particular neo-Expressionism of Raymond Pettibon, Fred Tomaselli, Neo Rauch, or the video sculptures of Bruce Nauman and Tony Oursler, dominated by off-register, visual hyperbole, hypermetropia and irrealism. Marginal characteristics for the coolness of contemporary art that instead have sought refuge in other no less important forms, but ones destined to be part of the productive system, like graphics, illustration, tattoos, video clips.
So it is surprising, up to a point, that an art gallery has decided to present the first solo show in Italy of Mike Giant, a reference point in American counter-culture but still unknown in our country (he's more famous in France, but the French have a true devotion for such subjects). By the way, this is the same gallery that brought the drawings of Daniel Johnston to Milan, and regularly works with our homegrown psychedelic guru, Matteo Guarnaccia, which might explain the particular sensibility of Antonio Colombo with respect to authentic, heterodox visual forms, not yet colonized by museums and the system.
Giant's black and white is legendary at this point, transferred from paper to tattoos, skateboards to graffiti to street art. At his site www.mikegiant.com you can also find a section on photography, not so different from the snapshot style that was all the rage in the 1990s, but you can tell it's just a pastime, a way to take a break from the concentration required by manual work.
Giant's art, in fact, raises a thorny issue, a "red-hot" question in the contemporary debate. Even though the context insists on keeping it alive, minimalism and its byproducts are on their way to the archives. For decades, we've been accustomed to assuming that the only valid art was art that took the creative contribution, the skill of the making, to extreme reduction. The true artist just did the project, and then delegated, producing objective, neutral elements, in line with that design taste that has filled apartments and offices with identical, impersonal things. Even painting and drawing, to hope to exist, had to fall back on pale marks on a white background, making the verve and technical ability of the artists seem futile.
Mike Giant is really good at what he does, he's a Number One, anyone can tell as long as they are the least bit perceptive, not jaded by dictates and habits. His talent is that of both the artist and the artisan, because art is the exact meeting point of the two, and – this is worth stating firmly – anyone who has no technical ability, no awareness of the medium, no control of the language, should not be inserted in either one of those two categories. Were that to happen, though, half the works displayed in museum collections would end up in the trash.
This debate was ushered in by an essay published in 2008, The Craftsman by Richard Sennett. A sociologist, professor at New York University and the London School of Economics, Sennett believes that the old figure of the homo faber, he who knows how to do things with his hands thanks to uncommon knowledge and expertise, represents our salvation against the mediocrity of "just do it", against the policy that art schools should not teach technical skills but only pure speculation, separate from any finished object. Alternating between the present and the past, Sennett tells fascinating stories of old painting workshops where the geniuses of the Renaissance got their training, woodworking shops where Stradivarius violins were made, leaping to the present of kitchens, fertile with invention and experiment, or software houses, capable of churning out very sophisticated programs, that are just as creative and "manual". The only thread that links them all is talent, a term despised by the theoretical ideology that – especially in art – has unleashed thousands of imposters and incompetents.
For Sennett, the artist is first of all an artisan, who cares about a job well done, in itself. Instead of sterile ateliers full of assistants in front of computers, he returns to the carpenter's workshop, surrounded by apprentices and tools. The criterion of evaluation of hours of work makes a comeback, because the longer the time, the more precious the finished product. "An aim of this study is to explore what happens when hand and head, technique and science, art and craft are separated" Sennett writes. "I will show how the head then suffers; both understanding and expression are impaired."
Drawing is no exception. In fact, faced with the hundreds of sloppy sheets that clog up international exhibitions, Giant's graphics reveal a "giant" of the sign, a denizen of those Californian climes where painting has sought, and found, energy, force, inspiration, innovation at the roots, where in the only talent that counts is talent that manifests itself in something tangible: a painting, a drawing, a sculpture, anything as long as the "manual" skill of its maker is evident.
So can an illustrator, a motorcycle customizer, a tattooist (ok, that term sounds lame but I can't think of a better one) be better than a painter that does shows in galleries? Well yeah, it can happen. In the case of Mike Giant there's no doubt about it. The quality of his work is exceptional, indisputable, just as in the case of the master, Robert Williams.
Finally, let's consider the capacity these images have to bring out our most genuine sentiments. Signs that are dripping with America, Rock and Roll, Machismo, Cadillacs, Harley Davidsons, babes and more babes.
Art's a dream, and when I dream I want to dream like a hero.
SILVIA GIRARDI interviews MIKE GIANT
Your art is about lifestyle, sex, religion… your drawings are sensual and "pure". When your sign becomes symbol what is your message?
I don't think I have a consistent message in my work. I think each drawing has a different message. Sometimes the message is obvious, sometimes hidden. Sometimes the message is the most important part of the piece, and sometimes I just want to make cool pictures that don't have any message at all. Day-to-day I'm mostly concerned with simply enjoying my studio time rather than pushing a particular message or agenda.
You started writing graffiti in '89, then became a tattoo artist in '98. Today you are mostly focusing on drawing on paper. Do you ever feel limited by the medium? How do you keep reinventing yourself black on white?
I've enjoyed drawing on paper with markers since before I could walk. Drawing mostly in black and white came quite naturally to me over time. To this day, black permanent markers are my favorite things to draw with.
Admittedly, I would feel limited if I only made drawings on paper. That's why you'll still find me spraypainting walls, taking photos and making tattoos. Between these different mediums I feel like I've achieved a nice balance in my art practice. Each medium feeds the other.
I don't really feel like there's much room for reinvention as far as my black and white illustration style is concerned. I feel like that style is pretty well established now and I can just let it ride. It will evolve at its own pace as it always has.
Over the years I've felt most free to play with stylistic changes in my graffiti work. When I step up to a wall these days, I have no idea what the piece will look like. I just settle into the creative flow and allow my style to reinvent itself without pressure or boundaries.
What is your relationship between your art and the marketplace?
Within the worlds of commercial illustration and fine art, I try to get help from people I trust to take care of the business stuff so I can concentrate on making work. I hate dealing with the marketplace for the most part. Bargaining and negotiating with clients can suck. Waiting for checks sucks. I just like to draw.
I wish all my business dealings were as straight forward as the tattoo business. You make the tattoo and you get paid cash on the spot. No tax, no bullshit. I love that.
How do you keep in touch with your audience, with their world, needs, dreams, and does the audience influence the choice of your imagery?
As far as art goes, I'm far too caught up trying to articulate and understand my own needs and dreams to concern myself too much with my audience's needs and dreams. I feel like I've always tried to speak from my own personal experience in my work. The people who understand where I'm coming from are my audience. And luckily for me, my audience's support has allowed me the freedom to delve deeper into my own experience and then offer my findings back to them.
I have heard you speak extensively about mindfulness and art process. Is your state of mind and body allowing you to be more conscious of the creative flow and therefore feeding your sign with truthful and original content?
Mindfulness practice has certainly given me the ability to stay more connected to the creative flow. I feel like mindfulness practice has also helped me be more conscious of the importance of good physical health as well. Meditation and mindfulness practice have helped me to see life as it is, not as a conceptual construct of my thinking mind. And when I can work from that space of open awareness I almost always get more truthful and original results.
What is a challenge?
Trying to be the change I wish to see in the world.
What is important?
Trying to be the change I wish to see in the world.